Image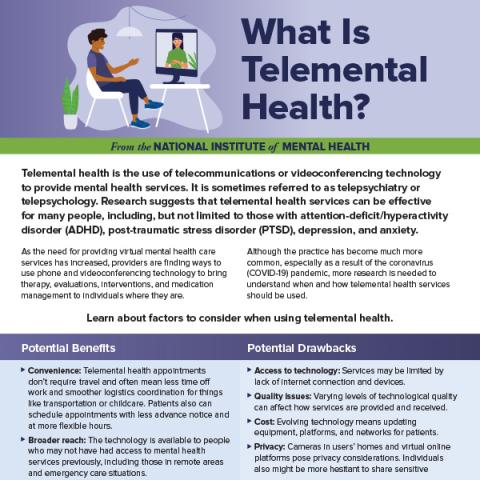 Download PDF (487.34 KB)
This fact sheet provides information about telemental health services including potential benefits and drawbacks of this kind of care, and factors to consider when looking for a provider.
Pub ID:

NIMH-21-MH-8155

Publication Date:

Number of Pages:

2

Format:

Fact Sheet
Related Publications
Esta hoja informativa ofrece información sobre los servicios de telesalud mental, incluidas las posibles ventajas y desventajas de este tipo de atención, y los factores que se deben considerar al momento de buscar un proveedor.

This fact sheet presents information about how to assess your mental health and determine if you need help.

This fact sheet presents information on children's mental health including assessing your child's behavior, when to seek help, first steps for parents, treatment options, and factors to consider when choosing a mental health professional.

This fact sheet provides five tips to help prepare and guide you on how to talk to a health care provider about your mental health and get the most out of your visit.

Esta hoja informativa presenta información sobre cómo evaluar su salud mental y determinar si necesita ayuda.

This fact sheet is intended for teens and young adults and presents information about stress, anxiety, and ways to cope when feeling overwhelmed.