Image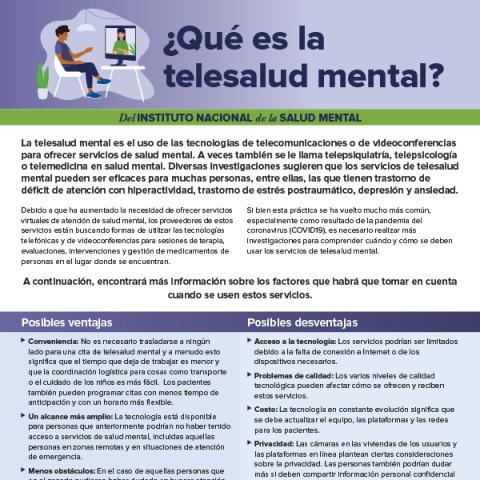 Download PDF (203.62 KB)
Esta hoja informativa ofrece información sobre los servicios de telesalud mental, incluidas las posibles ventajas y desventajas de este tipo de atención, y los factores que se deben considerar al momento de buscar un proveedor.
Pub ID:

NIMH-21-MH-8155S

Publication Date:

Number of Pages:

2

Format:

Fact Sheet
Related Publications
Esta hoja informativa presenta información sobre cómo evaluar su salud mental y determinar si necesita ayuda.

This fact sheet provides information about telemental health services including potential benefits and drawbacks of this kind of care, and factors to consider when looking for a provider.

Folleto sobre la salud mental de los niños que incluye cuándo debe buscar ayuda, las medidas que los padres pueden tomar, la evaluación y el tratamiento, cómo elegir un profesional de salud mental, cómo trabajar con la escuela, recursos adicionales e información sobre ensayos clínicos.

This fact sheet presents information about how to assess your mental health and determine if you need help.

Esta hoja de datos ofrece cinco consejos para ayudarlo a prepararse para su próxima consulta médica.

Esta hoja informativa está dirigida a adolescentes y adultos jóvenes y presenta información sobre el estrés y la ansiedad, además de consejos para sobrellevar estos sentimientos cuando se sientan abrumados.