Image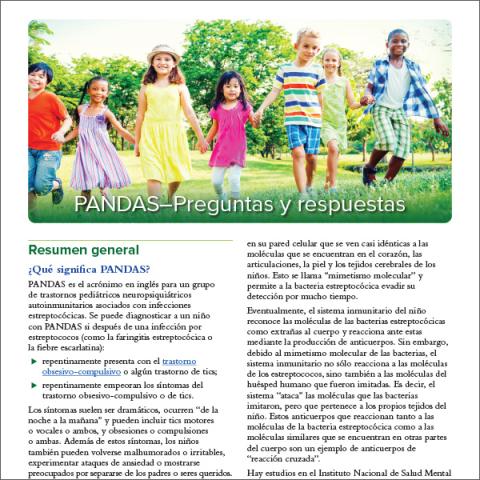 Download PDF (1.93 MB)
Este folleto describe las causas, las señales y los síntomas y el tratamiento para los trastornos pediátricos neuropsiquiátricos autoinmunitarios asociados con infecciones estreptocócicas (PANDAS, por sus siglas en inglés).
Related Publications
This brochure covers causes, signs and symptoms, treatment, and clinical trials for Pediatric Autoimmune Neuropsychiatric Disorders Associated with Streptococcal Infections (PANDAS).

Esta hoja informativa ofrece información sobre cómo puede ver sus antecedentes familiares de salud y sus genes para determinar su riesgo personal de desarrollar un trastorno mental.

Esta hoja de datos, dirigida a los adolescentes y los adultos jóvenes, presenta información sobre cómo reconocer los síntomas de la depresión y cómo obtener ayuda.

Esta hoja informativa presenta información sobre lo que es la psicosis, sus causas, signos y síntomas, tratamiento y recursos de ayuda.

Esta hoja informativa está dirigida a adolescentes y adultos jóvenes y presenta información sobre el estrés y la ansiedad, además de consejos para sobrellevar estos sentimientos cuando se sientan abrumados.

Esta hoja informativa ofrece información sobre el trastorno disruptivo de la desregulación del estado de ánimo, conocido en inglés como disruptive mood dysregulation disorder o DMDD.