Image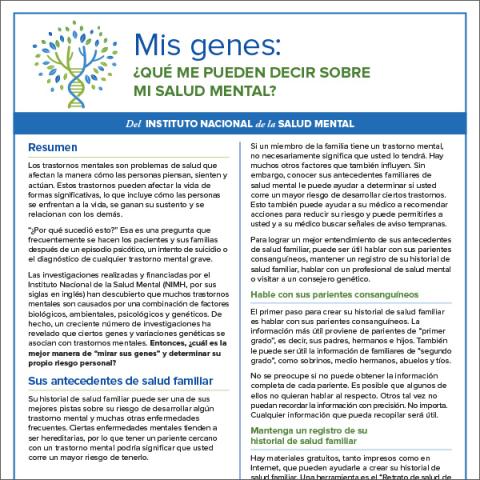 Download PDF (1.06 MB)
Esta hoja informativa ofrece información sobre cómo puede ver sus antecedentes familiares de salud y sus genes para determinar su riesgo personal de desarrollar un trastorno mental. Describe la diferencia entre las pruebas genéticas y los escaneos genómicos, así como la forma en que las investigaciones genéticas están contribuyendo al diagnóstico y tratamiento de los trastornos mentales.
Pub ID:

NIMH-20-MH-4298S

Publication Date:

Number of Pages:

4

Format:

Fact Sheet

Topics:

Genetics
Related Publications
This fact sheet provides information on how you can look at your family health history and your genes to determine your personal risk of developing a mental disorder.

Este folleto describe las causas, las señales y los síntomas y el tratamiento para los trastornos pediátricos neuropsiquiátricos autoinmunitarios asociados con infecciones estreptocócicas (PANDAS, por sus siglas en inglés).

Esta hoja informativa muestra cinco pasos que puede tomar para ayudar a una persona con dolor emocional y evitar que se suicide.

Esta infografía presenta comportamientos y sentimientos que pueden ser señales de advertencia de que alguien está contemplando suicidarse.

Esta infografía presenta datos que pueden usarse para ayudar a desarrollar una conversación sobre los trastornos de la alimentación.

Esta hoja informativa presenta información sobre lo que es la psicosis, sus causas, signos y síntomas, tratamiento y recursos de ayuda.