Image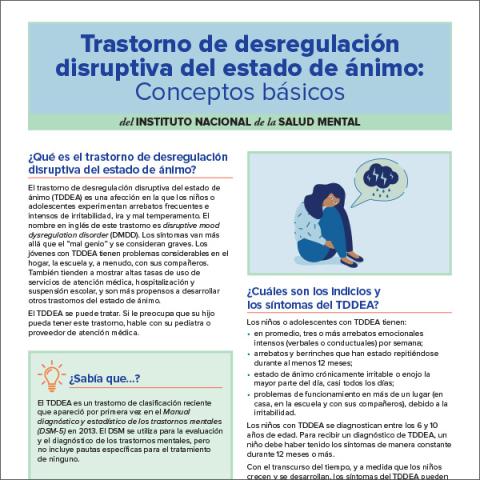 Download PDF (515.08 KB)
Esta hoja informativa ofrece información sobre el trastorno disruptivo de la desregulación del estado de ánimo, conocido en inglés como disruptive mood dysregulation disorder o DMDD. La hoja informativa incluye una descripción del trastorno, los indicios y los síntomas, cómo se diagnostica, opciones de tratamiento y consejos para padres y cuidadores.
Pub ID:

NIMH-20-MH-8119S

Publication Date:

Number of Pages:

4

Format:

Fact Sheet
Related Publications
This fact sheet provides information about disruptive mood dysregulation disorder including a description of the condition, signs and symptoms, how it is diagnosed, treatment options, and tips for parents and caregivers.

Esta hoja informativa está dirigida a adolescentes y adultos jóvenes y presenta información sobre el estrés y la ansiedad, además de consejos para sobrellevar estos sentimientos cuando se sientan abrumados.

Esta hoja de datos, dirigida a los adolescentes y los adultos jóvenes, presenta información sobre cómo reconocer los síntomas de la depresión y cómo obtener ayuda.

Esta hoja informativa presenta información sobre lo que es la psicosis, sus causas, signos y síntomas, tratamiento y recursos de ayuda.

Este folleto describe las causas, las señales y los síntomas y el tratamiento para los trastornos pediátricos neuropsiquiátricos autoinmunitarios asociados con infecciones estreptocócicas (PANDAS, por sus siglas en inglés).

Esta infografía presenta los indicios y los síntomas frecuentes del trastorno bipolar en los adolescentes y los adultos jóvenes.