Image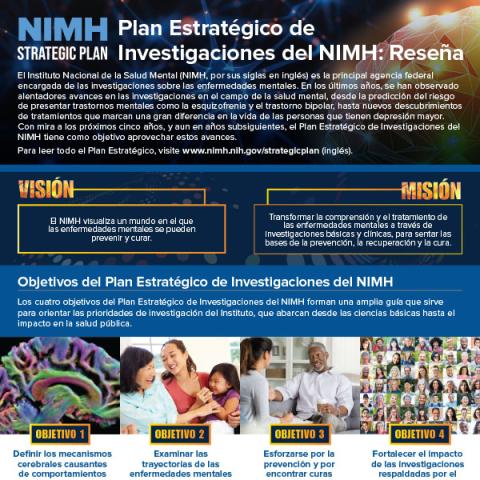 Download PDF (1.61 MB)
Esta hoja informativa ofrece una reseña del Plan Estratégico de Investigaciones del NIMH, incluida la visión y misión del Instituto, los objetivos y los temas de investigación transversales.
Pub ID:

NIMH-20-MH-8120S

Publication Date:

Number of Pages:

2

Format:

Fact Sheet
Related Publications
Esta hoja informativa describe la misión y los objetivos de investigación del NIMH.

This fact sheet outlines NIMH's mission and research goals.

Esta hoja de datos contesta algunas preguntas frecuentes sobre los ensayos clínicos, incluyendo qué es un ensayo clínico, quiénes participan en ellos, cuáles son los beneficios y los riesgos, qué es un consentimiento informado, qué preguntas debe hacer antes de participar, y dónde se puede encontrar un ensayo clínico sobre la salud mental.

This fact sheet provides an overview of NIMH's Strategic Plan for Research including the Institute's vision and mission, research goals, and cross-cutting research themes.

Esta hoja informativa ofrece información sobre cómo puede ver sus antecedentes familiares de salud y sus genes para determinar su riesgo personal de desarrollar un trastorno mental.

Brochure discusses what a clinical trial is, who participates in clinical trials including patient and healthy volunteers, why people participate in clinical trials, and guidelines.