Image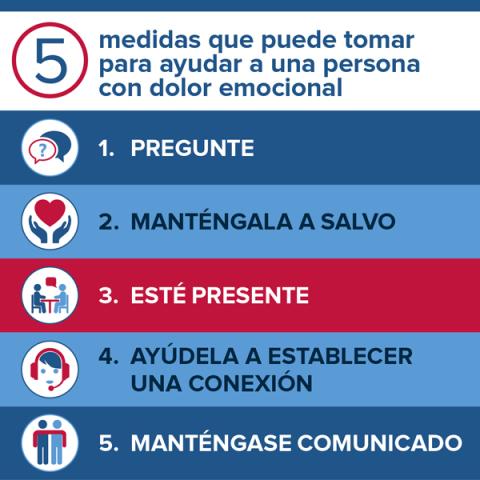 Download PDF (120.67 KB)
Esta hoja informativa muestra cinco pasos que puede tomar para ayudar a una persona con dolor emocional y evitar que se suicide. Los pasos incluyen: preguntar, mantenerla a salvo, estar presente, ayudarla a establecer una conexión y mantenerse comunicado.
Pub ID:

NIMH-SOM-22-4315

Publication Date:

Number of Pages:

1

Format:

Fact Sheet

Topics:

Suicide
Related Publications
This fact sheet presents five steps for helping someone in emotional pain in order to prevent suicide.

Esta hoja informative presenta comportamientos y sentimientos que pueden ser señales de advertencia de que alguien está contemplando suicidarse.

Este folleto ofrece información sobre el suicidio, incluyendo factores de riesgo, síntomas y signos de advertencia, terapias y otras opciones de tratamiento, dónde encontrar ayuda para usted o para otros, e investigaciones sobre el suicidio y la prevención del suicidio.

This infographic presents behaviors and feelings that may be warnings signs that someone is thinking about suicide.

Esta hoja informativa ofrece información sobre cómo puede ver sus antecedentes familiares de salud y sus genes para determinar su riesgo personal de desarrollar un trastorno mental.

Este folleto ofrece información sobre el trastorno de déficit de atención con hiperactividad en adultos.