Image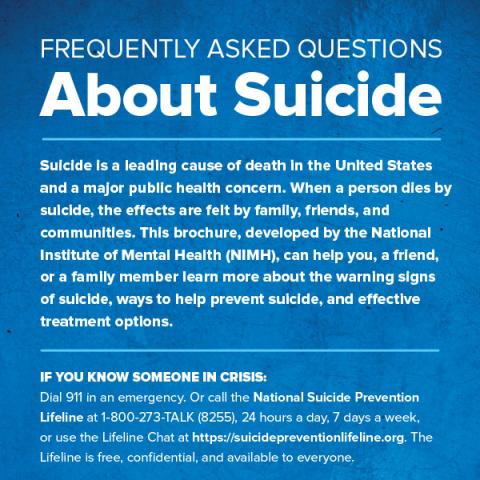 Download PDF (6.7 MB)
This brochure provides information about suicide including risk factors, symptoms and warning signs, treatment options and therapies, how to find help for yourself or others, and research about suicide and suicide prevention.
Pub ID:

NIMH-21-MH-6389

Publication Date:

Number of Pages:

8

Format:

Brochure

Topics:

Suicide
About Quantity Limits
If you would like to order more than the maximum quantity indicated, add that quantity to your shopping cart. You will be prompted to provide additional details about the use of the publications during the checkout process. Request for quantities above the limit are considered on a case-by-case basis. Please call the toll-free number 1-866-615-6464 between 8:30 a.m. and 5:30 p.m. ET, Monday through Friday, in case you run into any questions.
Related Publications
This infographic presents behaviors and feelings that may be warnings signs that someone is thinking about suicide.

This fact sheet presents five steps for helping someone in emotional pain in order to prevent suicide.

Este folleto ofrece información sobre el suicidio, incluyendo factores de riesgo, síntomas y signos de advertencia, terapias y otras opciones de tratamiento, dónde encontrar ayuda para usted o para otros, e investigaciones sobre el suicidio y la prevención del suicidio.

This brochure provides information about depression in women including signs and symptoms, types of depression unique to women, treatment options, and how to find help.

This fact sheet provides information on how you can look at your family health history and your genes to determine your personal risk of developing a mental disorder.